Emmanuel Baptist Church History
Church History
During the time of migration from the south of African American workers and a World War, a small group of African American Beloit residents felt the need to meet at Kent Hall on State Street to formally establish what was then named the Second Emmanuel Baptist Church. The following persons were present on April 15, 1917 for this purpose:

Mr. & Mrs. Robert L. Guyton
Mr. & Mrs. Grant Gordon
Mr. & Mrs. Cook
Mr. George Barr
Mrs. Millie Barr
Mrs. Moriah McCord
Mr. & Mrs. William Harris
Mr. Reese White, Sr.
Mr. W.S. William
Mrs. Mallie Grace Bell
Emmanuel was officially recognized and chartered by the Rock County Registrar on July 12, 1917. The formal incorporation papers were filed on June 3, 1927 in the same office.
Later, the church moved to the upstairs of a hall on Third and West Grand. In 1919, the church moved to Booth Hall on East Grand Ave. A building on St. Paul Ave. was purchased to serve as the church edifice and then sold in 1925 for $3,500. The present church lot was purchased prior to this on April 30, 1924. A concrete structure was completed in 1927 at a cost of $5,500. This edifice was destroyed by a fire in early 1958. The present church edifice was completed in 1960. In the late 1960's, the former parsonage on East Grand Ave was replaced by the one on Afton Road. The present Educational Center was also purchased during this time. An addition to the church, which includes the Family Life Center and new administrative offices, was completed in 2007.
From its beginning, Emmanuel has been blessed to have several God driven ministers serve the Lord. Min. Rodney R. Hayes is currently serving as the Interim Pastor. The following is a list of ministers in the order of their service as pastors of Emmanuel Baptist Church:

Rev. Fox
Rev. Arthur Pace
Rev. Barksdale
Rev. W.E.W. Brown
Rev. J.M. Price
Rev. W.L. LaBeaux
Rev. C.M. Newton
Rev. Matthew Jones
Rev. L.W. Veal
Rev. Alfred Robbs
Rev. Cleavant Derricks
Rev. N.T. Burkes
Rev. Dr. J.V.A. Winsett
Rev. Dr. Floyd Prude, Jr.
Rev. Kevin L. Pullam
In addition to its long history of providing worship and educational programs for its members, Emmanuel Baptist Church has maintained active outreach programs in the community. These have included the Good Samaritan's Closet, a food pantry and the still functioning Free Hot Lunch Program.
In 2017, Emmanuel Baptist Church celebrated a century of service. The church continues to uphold the values and traditions of its founders. We are in pursuit to obey the great commission uttered by Jesus in Matthew 28:19-20.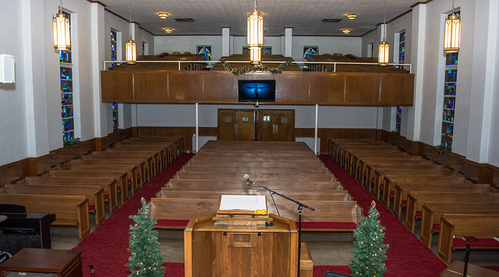 " God With US, Connecting With YOU"
Join us every Sunday as we gather to worship together at 10:00 am.